Capital of Spas
I had on of those 'aha' moments the other day and decided to write a blog outside of the usual fitness topics and share something 'about me' that could be interest to 'you'.
The city I was born at is an ideal place to anyone wishing to enjoy a weekend break.
There is an aquatic please you simply must indulge when you visit Hungary; healing, soothing thermal springs that feed 400 spas throughout the country. Thermal waters lie far nearer the surface then they do elsewhere, in this respect holds a position unique in Europe. Hungary is a land of more than 1000 hot springs and enough spa facilities to accommodate 300.000 people at the same time. 100 of these are beneath my birthplace Budapest, the 9th most beautiful city in the world by UCityGuides.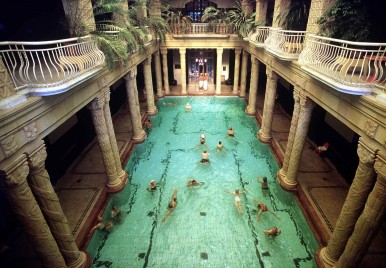 Budapest most elegant vintage baths were built during the Golden Age in the late 19th century. The famed Gellért Bath attached to the luxurious Art Noveau Gellert Hotel, is perhaps the most stunning with majolica tiles, marble columns, stained glass windows and ceilings. One of its pools features a wave – making machine is very popular in this land locked city.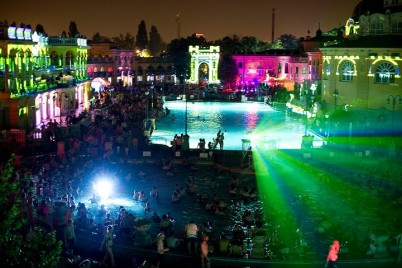 Every year 2 million people visit Szécshényi bath (plus featured image!) in the City Park, Europe's largest public bath and Neo – Baroque masterpiece. By the ivy covered walls of the pool complex you can watch dedicated chess players compete on the water chessboards. The outdoor pool is mixed, and in these days a contemporary performance take place here once a month, which is unique in the whole world called the Cinetrip. This revolutionary water cinema became a well – known bath party. Combines old film screening and unusual light display. Offers an unconventional twist of hip –hop, house and ambient music, and hypnotic show of the charming belly dancers.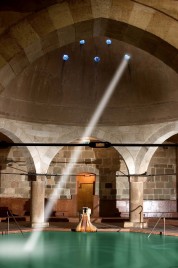 During the Turkish occupation the Rudas was built in the 1550s. The main part of the baths, the Turkish bath dates from this period. It has an octagonal plunge pool over which light shines from a 10 meters diameter cupola. Supported by eight columns and four small corners with varying water temperature. The mineral content of the water has got a curative property for specific medical conditions.
The thermal waters are recommended to cure degenerative illnesses of joints, chronic arthritis, osteoporosis, spine problems, chronic and sub-acute joint inflammations, vertebral disk problems, neuralgia, vasoconstriction and circulatory disturbances; inhalation problems for the treatment of asthma and chronic bronchitis problems.
At each Spas upon request an individualised healing therapy plan will be developed including; relaxation therapy, mud and massage therapy. After just a long weekend you should notice positive results. For maximum results, a three-week stay is recommended.
Why not visit and experience a fascinating Central European tradition and relieve modern day stress at the same time.
Contact Fabiola today and take the first step towards changing your life:
Contact Fabiola